Moving into a new house usually triggers a great deal of stress and anxiety, especially if you have no experience with moving and you also have a lot of sensitive items to relocate. For example, gaming consoles, a collection of tiny coffee cups and a full-scale home arcade machine. While you will need to make sure that all your furniture, clothes, appliances and clothes will reach your new address safely and hassle-free, you should pay close attention to your most fragile items, including pinball or arcade machines. The way they will be packed and transported will make a huge difference, and hiring expert movers to give you a hand is one way smart of doing things.
Why You Need To Pay Special Attention To Arcade Machines
Coin-operated machines such as slot or pinball machines require special care during a move. Not only do they cost a lot of money, but, oftentimes, they are impossible to replace as they may carry a sentimental value for the owners. Most arcade game machines have been passed down from one generation to another in most households, or they were auctioned at high prices.
Keep in mind a pinball machine will normally weigh around 325 lbs. on average, so you might be a little more difficult for you to have it moved on your own. A professional moving company with rich experience moving bulky arcade game equipment is a reasonable solution worth considering.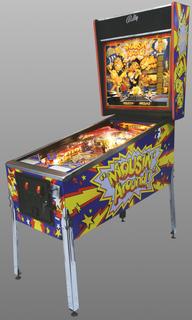 Plus, you could also risk dealing with broken mechanisms during a move; why risk having to hire someone to tweak your arcade machine – especially if you are a new player – when you could hire expert movers for a damage-free relocation? Remember to always inquire about the mover's experience with moving arcade games as well as any other collectables you may need help with prior to sealing the deal with them. Not everyone specializes in packing and transporting arcade game machines, so you'd better do your homework first.
How To Secure A Safe Move For Your Arcade Game Machine
To avoid unfortunate accidents and damage during the move, as well as any costly repairs, you could follow a few simple steps:
start by removing all pinballs and folding the head of the game;
use plastic wrapping to properly secure the playfield to the head to prevent it from bouncing around on the day of the move;
remove the back legs and place the machine on the floor, then lift the front in order for the coin door to face up; make sure you safely remove all screws, felt and slate from the pool or pinball table prior to removing the legs. The same goes for a slot machine you may be storing in your basement or recreational room. Lots of people enjoy playing classic or modern-day, 3D slots games online, but a few nostalgic gamblers may prefer the real feel of a one-armed bandit machine. If you own one and you need to safely move it to your new address, make sure you follow these steps or simply ask for help from a professional mover.
next, remove the front legs and wrap the cabinet using a blanket in order to keep the paint intact;
place the arcade game machine on a hand truck and have it moved to the moving truck.
What If Your Arcade Game Machine Breaks During The Move?
In case something does go wrong with your arcade machine during the move, you can always get in touch with a technician who handles gaming equipment repairs, with special emphasis on arcade repairs and restoration services. In the meanwhile, you could take advantage of the numerous arcade and slots games found online on some of the best gambling venues. They will most likely keep you busy for hours and therefore make time fly by a lot faster. It is important to come across the most talented repairmen or movers for your arcade game machines, so you can make the most of them in your new home. This way, you will make your transition into your new home a lot smoother and help your children accommodate your new life a lot faster. Having familiar items around will help you feel more relaxed and confident, which is ideal for everyone who needs to relocate.